Hello Lee La La lovlies!
At High heels 2 flip flops you can expect to find posts on 
life.family.love.faith.joy.kids.marriage.baby.forever.
I am the mother to three adorably precious children.
God blessed me with each of them and I try my best everyday to live up to the job I have as their mother.
Being a mother is the most beautiful thing. The moment I knew I was pregnant with each of my children I was smitten with them. Such a strong and unbreakable bond we have to our little ones.
I find joy in our day to day routines. I try not to get lost in the "mundane". Each day is a gift. Even when the days have been rough and I find myself pleading for forgiveness on my knees, I still try to find something from the day that was positive. This instantly makes me smile and puts life back into perspective.
EVERY Thursday I host a link-up party titled "Share your joy".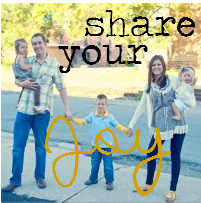 It is for anyone and everyone. Come and link up something that made your heart melt, made you smile or feel grateful. Whether it be something that you experienced that week or even that very day, sharing your joy with others only multiplies your own joy. It has such a ripple effect. Doing this has been such a powerful thing in my life. I read so many inspirational things that are linked up. Some posts are just a simple picture that someone captured and it brings a smile to my face.
I hope your will come over and share in our life and in our joy!
…..
Thank you Christy!
You are a true gem and I am so thankful for you in my life.
Stop on by Christy's blog and show her some LOVE.